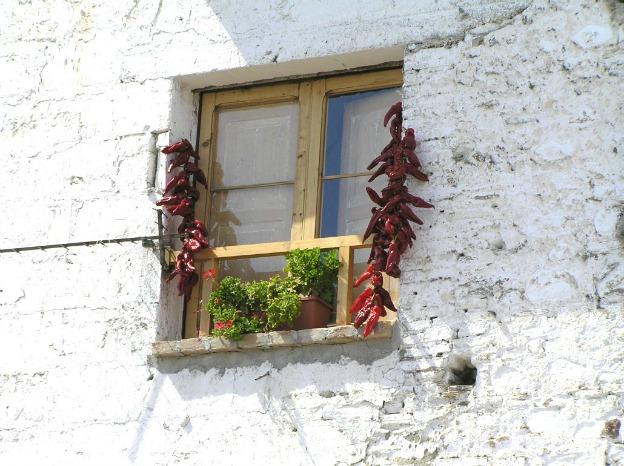 A mountainous region rich in pastures and forests, surrounded by two seas, the Ionian on one side, the Thyrrenian on the other, Basilicata boasts a varied cuisine and strong agricultural traditions.
Olives, flavorful vegetables and legumes are extensively cultivated. Wheat is also an important crop, used to make pasta and bread. Recipes make extensive use of white meat, lamb, eggs, local spices such as hot pepper and a range of vegetables. First courses include all varieties of pasta accompanied by ragu sauce. Sheep meat features prominently on second courses.
If you're traveling to Basilicata, here are ten local specialties you shouldn't miss:
Pane cotto
Pane cotto, or baked bread, is one of the poorest dishes of Basilicata; in the past, it made for an entire meal. There are variations of the dish, but, generally, it is prepared by frying chopped onions and fresh hot pepper in olive oil. Water is added, then eggs. This mix is then poured on slices of bread toasted on the grill.
Strazzata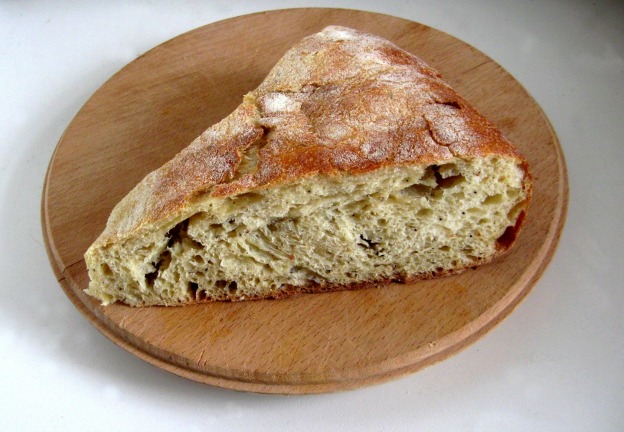 Strazzata is the classic focaccia of Basilicata, originating from the Avigliano area. The name derives from the local dialect 'strazzat', which means "torn" or "ripped" and refers to the custom of breaking the focaccia with your hands rather than with a knife. The basic ingredients are water, yeast, flour, black pepper and oregano, with the possible addition of lard and small pieces of bacon. Strazzata was traditionally used during weddings, and feasts in general, as an accompaniment to wine.
Pasta mollicata
Pasta mollicata is a traditional dish of Basilicata that has spread to all of southern Italy. Among local pasta dishes, it is considered the poorest. It is prepared by frying chopped onions (and at times a little lard) in a pan with extra virgin olive oil and a bit of red wine. Then, chopped tomatoes are added and cooked over high heat for several minutes. Mollica (the soft inside of the bread) and stale bread are then added and cooked for about 15 minutes on high heat. When the pasta is ready (usually ferretti or bucatini), it will be sautéed in the pan along with a generous amount of cacioricotta cheese. The dish will be topped off with fresh cacioricotta, and hot pepper-flavored olive oil.
Peperone di Senise
Peppers of all kinds abound in Basilicata, but the star of them all is the bright red Senise pepper, produced between the Agri and Sinni rivers, near the city of Senise, hence the name. Senise peppers are a staple of Basilicata's cuisine, employed in many different ways. In their fresh version, they're added to sauces, stuffed with meat or grilled and preserved in oil. They're often hung to dry in the sun, further enriching their taste. In this dry version, they're added to soups, potato dishes and frittatas, or pulverized to make a powder called zafarano, which is used as a preservative for the region's sausages and cold cuts. The seeds may be extracted and used as spice. Perhaps the tastiest version is peperoni cruschi, when the peppers are fried in olive oil; they may be eaten by themselves as aperitivo or snack, or tossed with pasta and bread crumbs.
Baccalà alla lucana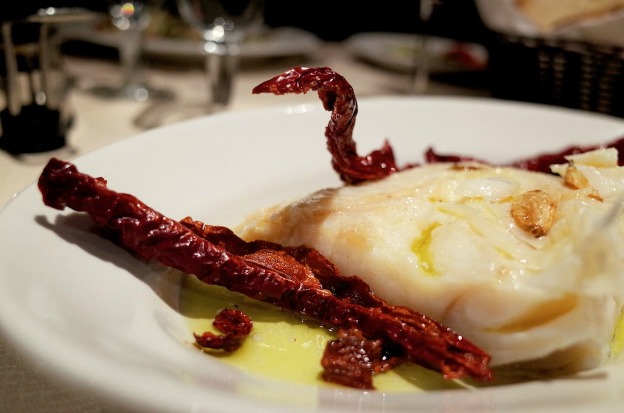 Baccalà alla lucana, also known as baccalà all'aviglianese because it originates from the area around Avigliano, was for a long time the seafood-based dish of the local people living in inland areas because it was easy to store and to transport and was therefore a good alternative to meat-based dishes. It is prepared with the addition of peperoni cruschi, and seasoned with olive oil and parsley. It is a typical Christmas dish. Every August, the dish is celebrated during the Sagra del Baccalà di Avigliano.
Cutturiddu di pecora
Cutturidd is a typical Easter dish of Basilicata (and central Puglia) originating from the pastoral traditions of the local population. The sheep meat is stewed in fried onion, tomatoes, peppers, potatoes, celery and garlic. According to tradition, the dish must be prepared using an earthenware pot or heavy aluminum pans.
Lucanica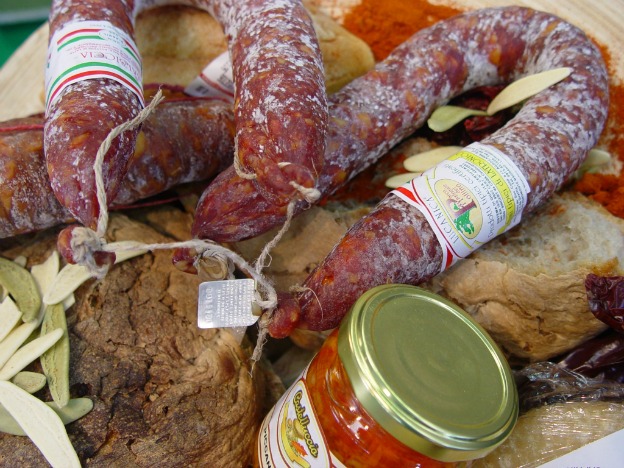 A very ancient pork sausage appreciated since Roman times, Lucanica has a characteristic U-shape. The main aroma is of wild fennel seeds, combined with other spices and black pepper. A spicy variety uses red pepper as well.
Soppressata
Soppressata is a cold cut typical of Southern Italy that originated in Basilicata, where it has been produced for at least three centuries. The name comes from the pressure applied on the product during its drying stage, which gives it a flattened form. The meat is simply seasoned with salt, whole peppercorns and dried red pepper powder. After drying, soppressata is generally preserved in jars with olive oil.
Caciocavallo podolico lucano
Caciocavallo podolico is a particular variety of cheese produced exclusively from the milk of the so-called Podoliche cows, following traditional practices, and only at certain times of the year. This cattle breed is reared in Abruzzo, Basilicata, Calabria, Campania, Molise and Puglia; it was introduced by Ukrainian populations during the Barbarian invasions. Caciocavallo podolico lucano is a 'noble' cheese, consumed by itself rather than in preparations, usually at the end of meals.
Sanguinaccio dolce
Sanguinaccio dolce is a sweet cream made with bitter dark chocolate, traditionally prepared during Carnival, and accompanied with savoiardi biscuits (Lady fingers). It is recognized as a traditional food product of Basilicata. The authentic recipe calls for the use of pigs' blood – yes, that's right – apparently it gives it the required acidic aftertaste; that's why it's called sanguinaccio, from sangue, blood.
sources mag